Gianluca Zanna Official FB page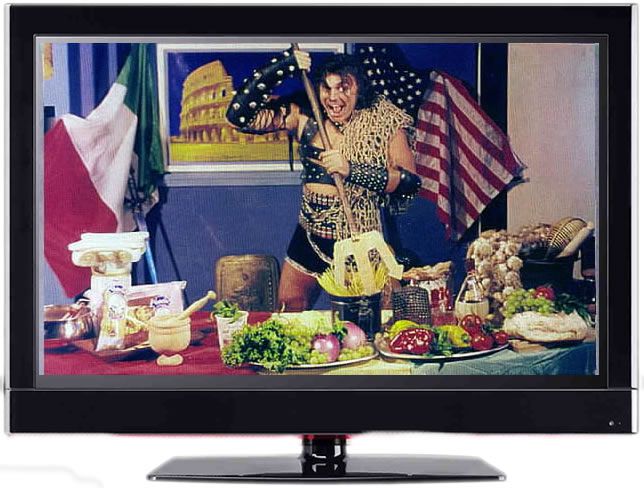 Gianluca Zanna's Cooking and Recipes
I love to eat :) good food, but I am really picky, so much that I mostly cook myself... because I am the best cook I know :) (a very modest statement). In this section I want to share with you all my recipes and secrets of my personal cooking background. From the Ancient Roman Recipes to Aphrodisiac Recipes, to Classic Italian meals... and my latest "Spaghetti Western Cooking Show".

I am producing several web cooking show and almost completed to write some great e-books about food that I am sure you will find interesting... for just 99 cents each one!
BUON APPETITO!
RomeCookingShow.com the only Ancient Rome Cooking show on the web where you can enjoy authentic Ancient Roman Recipes with Lucius Spartacus, the only Roman Gladiator Cook from Rome.
From the Imperial cook books like "De Re Coquinaria" by Marcus Gavius Apicius, to other Roman Classic text, Spartacus will share with you authentic ancient meals staples of the Roman Gladiators and the Roman Soldiers, adapted with today's ingredients... 2000 years after the Roman Empire taste the History of Rome. Free Latin Phrases and Ancient Rome Poems are included in the Menu!

SpaghettiWesternCookingShow.com  What happens when an Italian cook wanna be cowboy is lost in the middle of Arizona...Delicious Italian Recipes with the Flavor of the Southwest, Free Serenades, some Italian Cussing and a lot more...
 "Italian Aphrodisiac Cook Book" The First Italian Aphrodisiac Cookbook.
"How to make Pizza", how to make pizza at your home with a regular oven, no machine, from scratch, save hundreds of $$$ and eat the healthiest and most delicious Pizza (30 Pizza recipes)!
"Bruschetta Recipes", the art of the Bruschetta with 30 Bruschetta recipes and how to make real Italian bread from Scratch.
"Farro Recipes", the first e-book about Farro the healthy grain from the Ancient Romans,
30 unique recipes for every occasion!
"Quinoa Recipes, the grain for a complete diet", learn how to cook this high protein grain...
30 unique recipes!
"How to Sprout, be healthy and cut your produce bill", the e-book that teaches you everything about sprouting, buying seeds, becoming healthy, feeding a family while saving money at the produce shop.
"How to cook and eat like an Ancient Roman" Authentic Ancient Roman Recipes from the Imperial Rome using ingredients of our times. Discovering ancient culture and knowledge...
"How to eat like a Roman Gladiator", Ancient roman recipes and diets of the Roman Gladiators for energy and strength.
"How to eat healthy, plenty and tasty with just $3.00 a day", a unique e-book must have for every survivalist or health conscious individual that wants to eat gourmet for almost free.