Gianluca Zanna
Gianluca Zanna Official FB page
I am Gianluca Zanna, and I am a former Legal Immigrant from Italy...
Welcome to my Music Store and I appreciate your support in downloading and sharing my songs and my Music with your family and friends.
I was an Italian by Birth, but I became an American by Choice. Besides to be a Songwriter and Music Producer, I am also a Radio host, Constitutional Activist Romantic Poet, Multimedia Artist, Book Author, Survivalist, Rifleman, Roman Gladiator, Italian Cook, but more importantly, I am a New American against the New World Order.
 Listen to my new Radio Show on KTOX 1340 AM Love, Guns and Freedom

Find me on Amazon.com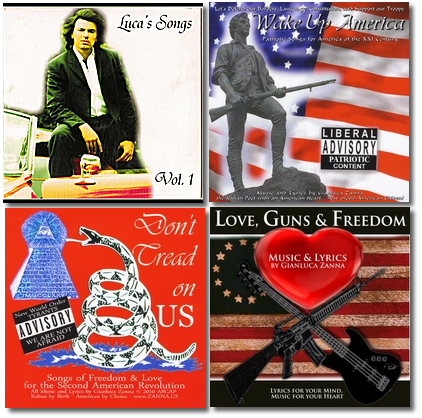 Order Zanna Organic Coffee HERE